Deeply interested in activities that express the natural state of mind to which all meditation aspires, Mr. Namgyel, in his first encounters with Western art, particularly admired the work of Kandinsky and Picasso. Although trained in the traditional Tibetan arts of calligraphy, music and ritual dance, he first began to paint in the mid-1990's under the guidance of the French abstract expressionist Yahne Le Toumelin.
In the late 1970s Robert came into contact with Chögyam Trungpa Rinpoche, an unconventional and deeply penetrating teacher and artist who had fled the Chinese Communist invasion of Tibet. Under his guidance he became involved in the study and practice of Buddhist meditation and philosophy. Leaving Boston to take jobs as caretakers at a rural retreat center in southern Colorado called Dorje Khyung Dzong.
In 1991 he moved to Boulder, Colorado, to take administrative jobs teaching at The Naropa Institute, now Naropa University. Chair of the visual arts department from 1996 until 2003. He continues to teach there as full professor in both the visual arts, contemporary performance, and religious studies departments.
Conduit is a joint project of the artists Doug Safranek and Murray Nossel. The word 'conduit' refers to a channel through which something is conveyed. In this art installation, portrait subjects are channels for their mothers' stories, telling in her voice, as if they are her.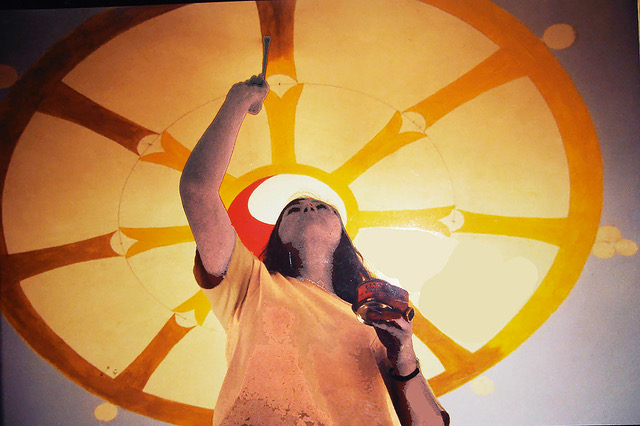 "I find that colour, shape, texture, line - these animated tonal qualities of light - are latent composition rendered through years of training. Impervious to decay or the capricious migration of time, they are closer to reality than reality itself, and capable of expressing time-honored truths. Having trained in both contemporary western drawing & painting, and traditional eastern Buddhist art, my artwork is multidimensional and multicultural, with certain bodies of work intended for interactive group participation. At the confluence of these two streams I sit: exploring, redefining, and celebrating the shared edge between Buddhist philosophy & receptivity and current western though & responsiveness."